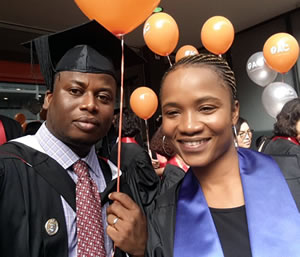 In 2015, Ps Victor and Lady Ps Ruth Kollie started a branch of Living Word Church Int'l (LWCI) in Brisbane, Queensland. Ps Victor and Ruth Kollie had faithfully served at LWCI, Prospect NSW, for many years. When a time came to settle in Brisbane, they decided to extend the work of God in connection with the blessed family of Living Word Church Int'l. Therefore Ps Chris Bonsu and a team of LWCI leaders went to Brisbane and joyfully ordained Ps Victor and Ruth Kollie as senior pastors of LWCI at Brisbane on the 20th February, 2016.
Ps Victor holds a Master of Arts (CS), Leadership Studies, from Alphacrucis College. As part of his MA, he studied biblical and theological foundations of Christian faith and ministry, with a focus on leadership development, responsible organisational leadership and strategic decision-making processes that facilitate sustainable development, as well as organisational health assessment, value creation and strategic management and leadership processes.
Ps Victor and Lady Ps Ruth love the Lord and are together doing a great work of God in Brisbane and welcome everyone to the light in Christ and the joy of serving Him.
Please feel free to fellowship with them when you are in Brisbane. Below are the details of their fellowship.
Weekly activities
Bible Studies, fellowship & prayer
Every Wednesday: 7:30 – 9:00pm
Venue: Rotational
Praise & Worship Practices
Every Saturday:   12pm – 2:30pm
Sunday Service
Bible studies: 9:30 – 10:00am
Worship service: 10:00am – 12pm
Venue: The SPOT, 61 Sandstone Place, Parkinson QLD 4115
Prayer Nights
First & Last Fridays of each Month
Time: 8pm – 10pm
Venue: Rotational
You may contact Ps Victor on 0470 126 288 or at hour.encounter@yahoo.com.au for more information.